Do you crave carbs or sugar? Are you addicted? Try this short quiz to see if you have a healthy relationship to sugar.
'You have pre-diabetes' I heard my doctor say, and I was speechless, I mean 'how' did this happen?
As a self-confessed 'sugar addict' I decided to get drastic with my diet. Unfortunately, I needed to be told I was pre-diabetic to change, despite everything I knew about diet, nutrition and health.
I wasn't overweight, I didn't drink juices, alcohol (ever!) or soda, I didn't eat any junk food and I exercised daily. In fact, I only ate chocolate and sweets a couple times a week – but, when I did, I ate a lot and I mean a lot-LOT. It was my entrée, my main and my dessert and I still wasn't satisfied. There was just no 'off' switch, and once I started my weekly sugar cheat meal, it soon turned into an all-you-can-eat all day long sugar binge and I couldn't stop until either it was all finished or the actual day was over and it was time to sleep. It was a vicious cycle I couldn't seem to get out of, and stress made my addiction ten times worse.
I had to get off this 'ride'.
Through intermittent fasting, upping my fibre and greens, eliminating snacking, stress management and therefore emotional eating control, I not only lost 11 kilograms and but successfully returned my blood sugar to normal. I weigh as much as I did when I was in my 20s, but have more muscle mass which means my body fat is actually lower than ever before and I'm enjoying life more than ever.
I've done a tonne of research on being addicted to sugar and have conquered it slowly over the past 15 years with different treatment interventions, but one thing I know for sure; don't wait for a doctor to serve you a diagnosis – act out of inspiration rather than desperation, because it could literally save your life.
Do you get an instant reward or 'hit' as soon as you eat sweet, starchy or refined foods?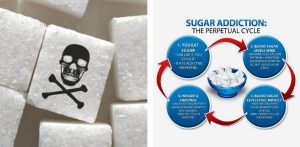 Try this short QUIZ about your relationship to sugar. In fact, you can apply it to any food to see how addicted you are. More than three 'yes' answers and you may be in trouble.
Think about the one food that keeps you coming back for more or you eat when you're emotionally charged and once you do – you can't stop. What's the food that if left in the kitchen cupboard will call your name until you eat it? For example, mine is 'chocolate' – I answered 'yes' to all the questions below which makes it a score of 18/18. Ouch! On the other hand, there's no other food I can think of where I score more than 2 or 3 at most, like apples, cheese or chicken breast. Note that the habit of mindless 'snacking' can also be an addictive behaviour.
When I start eating this food, I can't stop and end up eating much more than I intended.
I keep on eating this food even when I am no longer hungry.
I eat to the point where I feel physically ill or exploding full.
I crave this food when I'm stressed, anxious, under pressure, tired or sad.
If cravings hit, and I don't have this food to kill my cravings, I will almost always by the end of the day get it, and only then will the cravings subside.
I sometimes try to trick my cravings by eating or drinking an artificially sweetened item.
I often/always snack between main meals even though I'm not hungry – it's a habit.
I hide this food so even those close to me don't know how much of it I eat.
I eat this food to soothe or make myself feel better.
Eating it causes me anxiety and feelings of guilt, anger and shame.
Although I may not get much pleasure from eating it, I keep on doing so.
I can eat this food even if I am full after a main meal.
I often 'justify' eating this food by thinking 'just this time' or 'I'll diet tomorrow or start Monday' or 'I have my periods' or 'I've been good for so long, I deserve it' etc.
I eat this food sometimes in secret.
I snack on this food often late at night especially when I'm bored or need to relax.
When I'm craving this food, I get irritable, shaky, anxious and can't concentrate on the task at hand.
This food gives me an instant 'hit'; it relaxes me, makes me happy, gives me intense pleasure, it's my reward and gives me a 'high'.
I have tried to give this food up but failed.
Add up your 'yes' answers. The higher the score, the more you are hooked on sugar, carbs, chocolate, chips, alcohol, ice-cream, cookies, cake etc …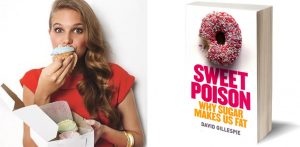 Conclusion
A 2011 study found that chocolate has powerful psychoactive effects, acting on the brain in ways similar to drugs like nicotine, opioids and alcohol, triggering a dopamine release in the brain, which gives a sense of pleasure or 'reward' that encourages seeking them out again and again. As soon as we consume a piece of chocolate, we're prone to want more of it.
The reason we are snacking more and eating more frequently junk food is no accident: junk food and processed snack foods are loaded with fat, sugar and salt. They have been deliberately designed to make us crave it over and over again, by applying the magic 1-2 fat to carb ratio, which has been scientifically proven to make them the perfect comfort food.
The good news? We're not totally powerless. We can unlearn this behaviour and establish some simple measures in place to practice better self-control.
See a hypno-therapist. It's an instant disconnection!
Practice daily mindfulness, meditation or deliberate breathing to manage stress and therefore emotional eating.
STOP the habit cold turkey and don't feed the cookie monster. It will be hard for a week but once you stop and your body depletes the sugars and carbs, you will most likely stop craving.
Simultaneously, eliminate all refined carbs, bread, rice, pasta as well as junk food as it will keep pumping insulin, thus keeping you in the addictive loop.
High insulin levels keep us hungry which in turn makes us snack and crave.
Salt is the antidote to sugar. Have a cup of instant miso soup or bone broth or something salty like a few olives or gherkins in brine instead.
Stop snacking between meals – it sabotages weight loss and spikes insulin. Stick to one snack daily at most.
Switch up your nutrition plan so that your body is forced to use your fat stores for energy rather than sugars and carbs and consume 50g or less of carbs.
Have a black bulletproof coffee – fats are known to blunt cravings and keep hunger at bay.
Replace the habit with a healthier, better for you option like fruit, YoPro caramel yoghurt, Quest protein bar, Avalanche sugar-free hot chocolate or the BodyIQ Mug Cake, and break the habit over time.
Read David Gillespie's book 'Sweet Poison' – and see how sugar makes us fat, sick and accelerates ageing. It's an eye-opener!
OR JUST JOIN BODYIQ! You will not only lose weight but also bring your insulin levels down and start using your body fat as the main source of energy. Thus, you won't feel hungry or crave the naughty foods you were once addicted to.
Article by Kinga Fourie, Founder of BodyIQ Intelligent Weightloss