You've tried every diet known to man – to no avail and you've followed the latest 'it' diet to the tee, coupled with an exhausting exercise program – and you've actually gained weight. But, if moving more and eating less was the answer to the global obesity epidemic then why has obesity nearly tripled since the 1980's? In fact, the outcome of these one-size-fits-all weight loss programs has resulted in people getting fatter, sicker and dumber than any other time in history.
There are plenty of plausible explanations as to why people aren't losing weight including; increased stress and anxiety, poor sleep and being less active, but the top of the list is because people are snacking more, eating more meals in cafes and restaurants – which are over-sized and loaded with calorie dense ingredients we can't see, and eating way more junk food than ever – soft drinks, take away meals, refined white carbs, bread, dessert like breakfasts and perceived 'healthy' snacks such as juices, smoothies, protein shakes, breakfast bowls, sushi and salads loaded with dressings. And the result? We are constantly overeating sugars, carbs and fats, which are calorie dense and they cause inflammation and are highly addictive – playing havoc with your hormones … and one hormone in particular: INSULIN – WHICH IS THE ABSOLUTE KEY TO WEIGHT LOSS!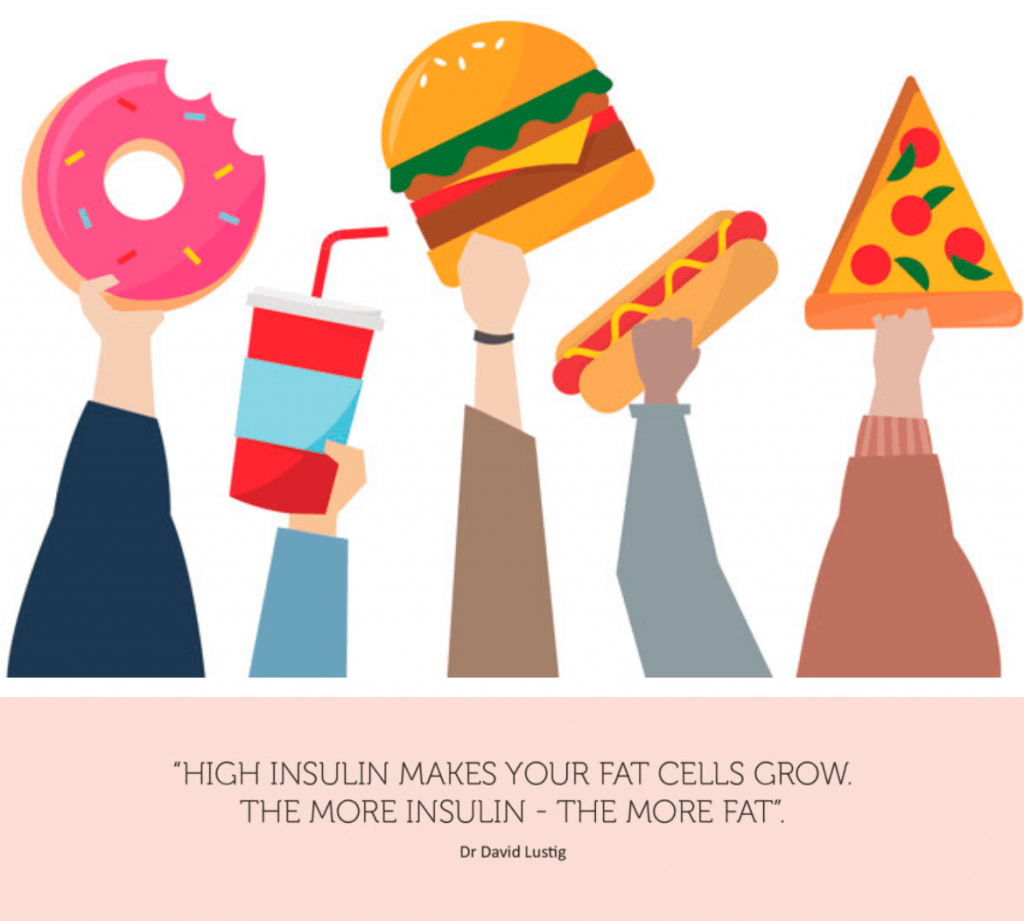 What are the damaging effects of raised insulin?
Eating rapidly digestible carbs may give you a brief 'sugar high', but two damaging things are happening also: you become less and less sensitive to insulin, there's no space left to store fat so it begins to overflow into your internal organs creating visceral fat (hello metabolic syndrome!) and despite carrying too much fat and ingesting all the carby delights – you still feel hungry all the time, you're tired and lethargic and you constantly crave – you guessed it – MORE CARBS!
So despite the 'energy' that you are carrying around in the form of body fat, your muscles and brain can't access it easily. Deprived of fuel, your brain tells you to eat more. So you do. But because your high insulin levels are encouraging fat storage – you get fatter while staying hungry and exhausted. It's not your willpower or because you are greedy – it's because you are insulin resistant.
"High insulin makes your fat cells grow. The more insulin, the more fat". Dr David Lustig.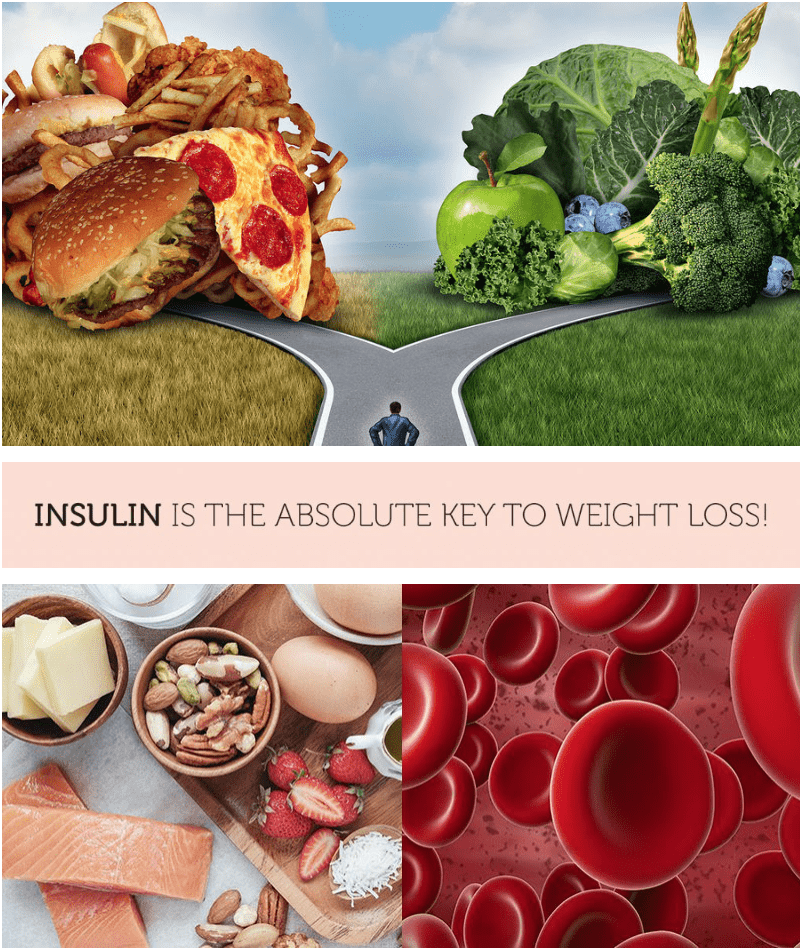 It's very simple:
If you have elevated insulin – you store fat.
If you want to get rid of the fat – you have to drop insulin.
If you become insulin-resistant and your body is forced to keep on producing insulin (due to constant snacking and eating high carb/high sugar foods), this will not only keep you hungry and craving more sugar, it will contribute to many diseases. In women, high insulin levels lead to acne, mood swings, excess hair growth, polycystic ovaries and infertility. It will also increase your risk of developing cancer, diabetes and dementia and increase blood pressure and cholesterol.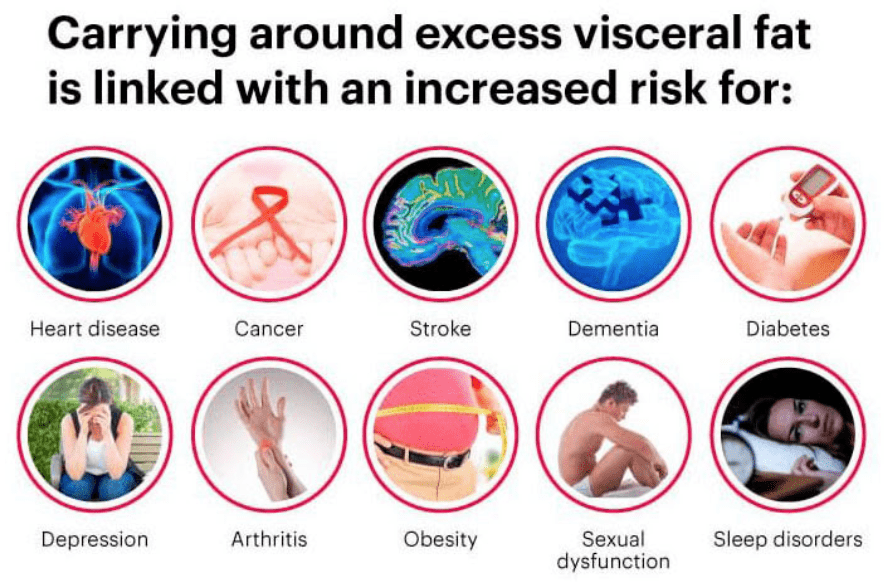 The good news is that if you change what you eat, cut our sugars and processed carbs, stop snacking, eat smaller portions and lose weight – your insulin levels will come down almost immediately.
Insulin resistance and even diabetes, are completely preventable and often reversible through aggressive lifestyle changes, including diet, supplements, exercise and stress management tools.
So how do you lower insulin, lose unwanted weight and get healthy?
Eliminate all white and processed carbohydrates and keep overall carb intake to a minimum
Don't go to bed stuffed. Eat 2-3 hours prior to bedtime
Get off the sugar rollercoaster! Ditch the junk food, sugar, refined carbs, juices and smoothies
Don't eat cereals, muesli, shakes, granola bars and carbohydrates for breakfast
Breakfast should consist of protein + fat + fibre
Train your body to become fat adapted – tap into your fat stores
Eat 3 'low GL' main meals and 1 superfood snack per day
Eat fat to lose fat
Limit alcohol
Get enough sleep. Lack of sleep increases appetite hormones
Supplement with essentials like MCT oil, magnesium, vitamin D, modbiotics and probiotics
Manage stress daily: meditation, walking, breathing techniques, yoga, pilates
Stop snacking all day long! Too much snacking causes excessive insulin secretion and weight gain
Focus on foods that normalise blood sugar: protein, fats and organic whole-foods: fibre-rich, low-starch carbohydrates from vegetables and low-sugar fruits
Or you can just join BodyIQ: info@bodyiq.com.au and you can get a biochemistry specific diet that's designed for you and lose all the weight you want whilst getting healthy from the inside out, exercise, cravings and hunger pangs free!
Food after all, is the most powerful drug in the world, "Food is medicine" Dr Mark Hyman.