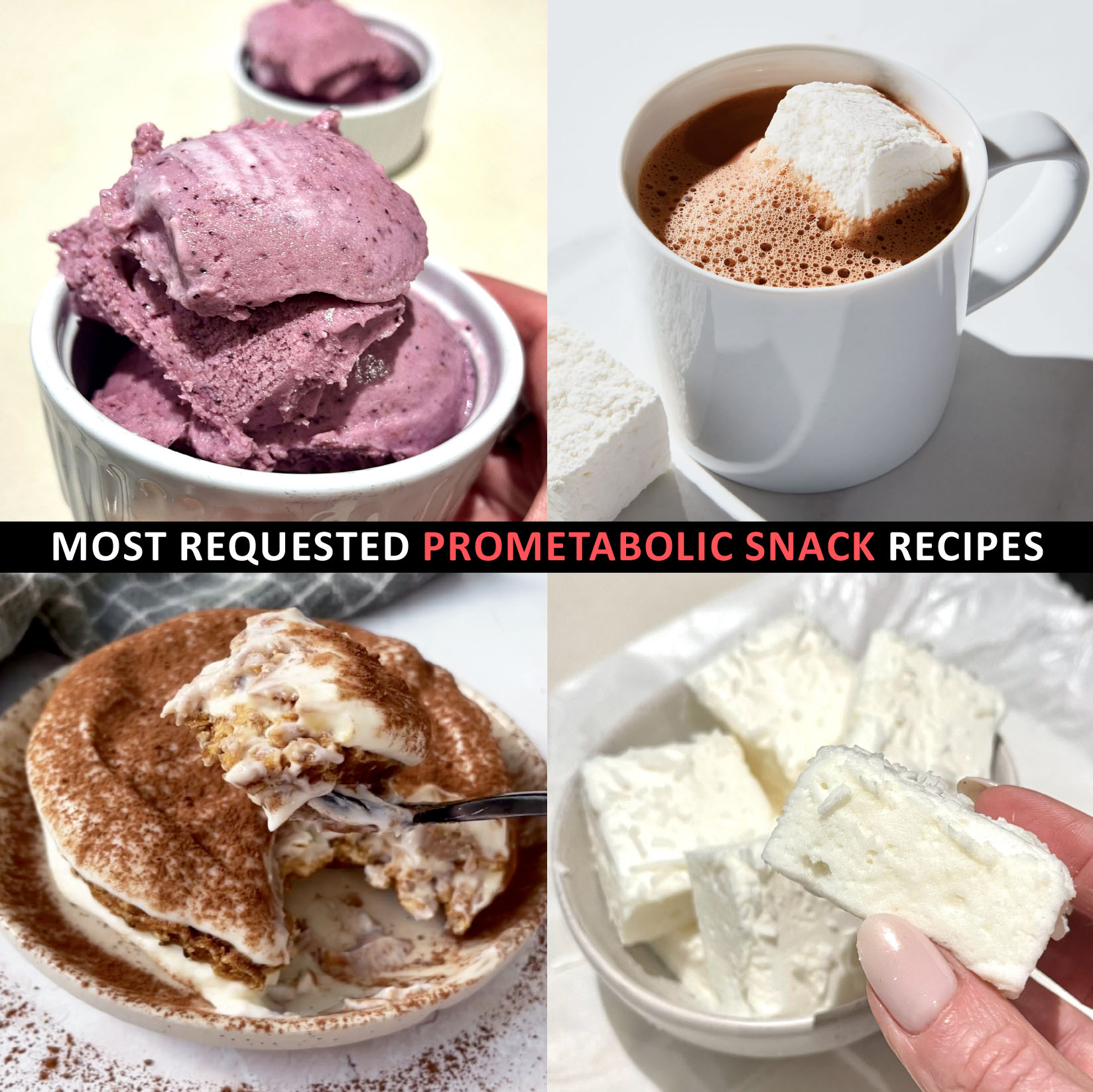 BodyIQ's Most Requested Prometabolic Dessert Recipes
06/07/2023
Why Eating Less & Exercising More is Making You Fatter & Sicker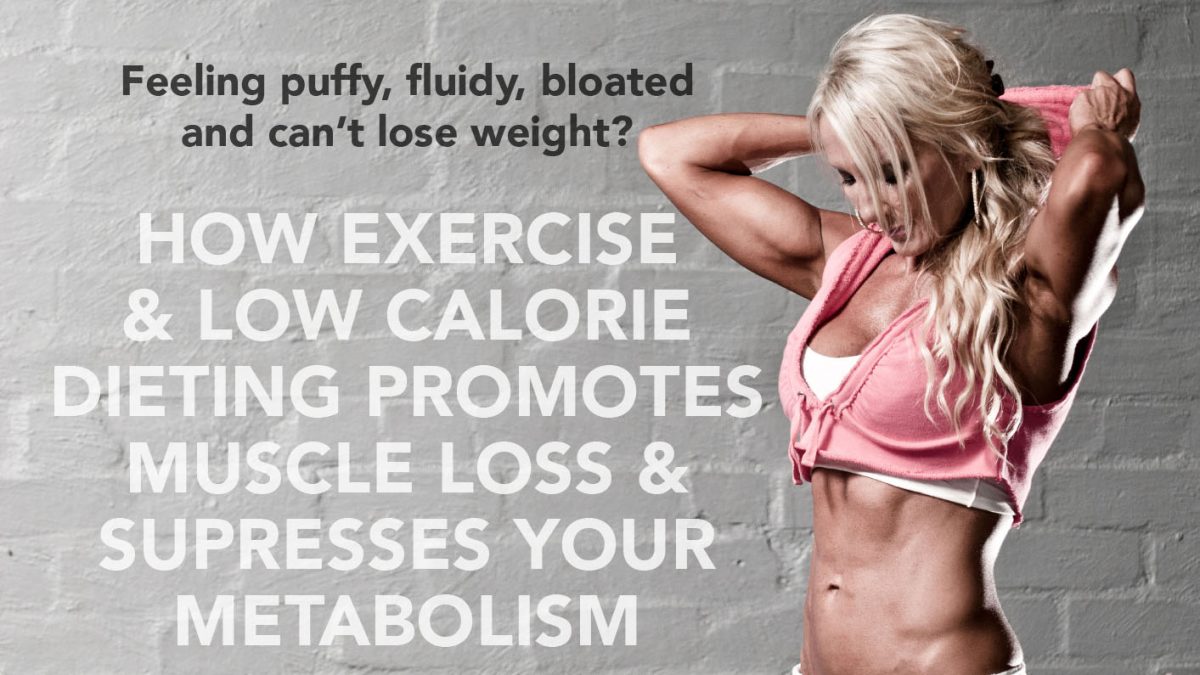 Eating Less & Exercising More Will Make You Fatter & Sicker – NOT Thinner
Grab yourself a hot chocolate and get comfortable – you'll want to read this if you're trying to force weight loss via low calories and exercise – and you see little or no results.
Every single female I have weight loss-coached who is in their late 30s, 40s, 50s and beyond has a colourful dieting history which includes: yo-yo dieting for years or decades, low carb or keto dieting, fasting, chronic calorie restriction, undereating and overtraining, skipping meals, lots of cardio, not eating breakfast, sugar/carb phobia, diet pills, high polyunsaturated fatty acids (PUFA) consumption, crazy cravings, binge eating etc … this is what I refer to as metabolic 'death by a thousand papercuts'.
But how does 'death by a thousand papercuts' apply to the health of your metabolism?
Basically, one dieting or lifestyle sin will not kill your metabolism, especially when you are in your 20s. But if you repeatedly, over many years commit most of the above mentioned anti-metabolic habits, you will soon find it impossible to shift weight. You will gain fat from a mere thousand calories and your health and energy will plummet.
These small things accumulate over time and catch up to you, resulting in a very inefficient metabolism and consequently, poor health. You may experience symptoms like poor sleep, thinning hair, belly fat, anxiety, constipation, mood swings, constant cravings, premenstrual syndrome (PMS), bloating, fluid retention, brain fog, low mood, all day fatigue, and poor memory.
So, when you try and force weight loss by adding exercise to a low-calorie diet, in an already stressed-out, under-nourished and hypometabolic state, your stress hormones will increase further. And since cortisol is a fat storage hormone, you are actually heading in the opposite direction of weight loss – because stress drives weight gain.
"The last thing your body wants to do when it's stressed is to lose weight".
Twenty-one good reasons why you should never combine low calories with exercise to lose weight (or ever!):
Exercise is a stressor
The last thing your body wants to do when it is stressed is to lose weight, especially when combined with a low-calorie diet.
90% of your weight loss success comes from mastering nutrition
And nutrition also happens to dramatically improve your overall health. The healthier you get the easier weight loss becomes.
You don't have 30 mins a day to de-stress from your already hectic lifestyle, but you want to squeeze in the least effective weight loss tool?
First, find the time for breathwork, meditation, grounding or walking and optimise your sleep – walk before you run, literally! Whether your goal is building muscle, losing weight, or improving your health, you are still required to zoom in on and master the basics: nutrition, meal prepping, optimising sleep, reducing stress, getting sunlight daily, reducing alcohol, tracking your metabolism etc.
You cannot build muscle in a calorie deficit
But you can certainly break more of it down through stress. To build muscle you need a calorie SURPLUS and lots of carbs to lift heavy and recover from your workouts. To lose weight you need to be in a calorie DEFICIT and actually reduce high intensity training, so you don't breakdown muscle.
The last thing an undernourished, hypometabolic and over-stressed person needs is more stress
A chronic elevation of stress hormones, inflammation, and lactic acid is the opposite of improving your metabolic rate and achieving permanent weight loss.
In an already stressed state, water, salt, and fat retention is the result of mixing a low-calorie diet and exercise
That 'puffy and water-logged' feeling you get post-training is not muscle growth, it is your body stressed and inflamed AF begging you for more calories and pro-metabolic carbs to reduce the stress and help your body recover, repair, and reduce stress hormones.
When you exercise on a low-calorie diet you are in fact losing muscle mass
The first 25-30 mins you burn precious muscle and then maybe some fat. Losing muscle means you now have less metabolically active tissue to burn fat at rest, which also helps prevent the accumulation of fats, because in the resting state muscles consume mainly stored fat.
Look around your local gym – who is actually changing their body?
If eating less and exercising more was the magic weight loss formula, we would all be sporting six-packs and obesity would not have tripled in the last 30 years.
If you want to look 'toned', you need to build muscle first. 'Toning' is a two-step process, something the mainstream fitness industry has gotten very wrong
1) Build muscle with progressive overload weight training, ample calories, and lots of pro-metabolic carbs.
2) Melt layers of body fat with a small calorie deficit and possibly some low intensity exercise (walking) to reveal your muscle and shape. Once you have successfully done step 1, your body is primed for weight loss success because you now have more metabolically active tissue (muscle!), and your metabolic rate is optimised due to consuming ample amounts of carbs and calories. Step 1 sets you up for weight loss success.
If you force weight loss through exercise you are exercising for the wrong reasons and at the expense of your health
Exercise artificially increases your metabolic rate BUT if you are already in a stressed state with poor metabolic health, as soon as you stop training, your thyroid is suppressed, metabolic rate reduced, and cortisol is sky-high which melts away your muscle mass. Your basal metabolic rate will now be lower than when you started. Re-teaching your body to burn energy INTERNALLY versus EXTERNALLY is how you achieve permanent weight loss.
Every person who loses weight through a low-calorie diet and exercise must continue to work to death to artificially keep elevating their metabolism
When you force weight loss with exercise and low calories, you will need to continue to increase your exercise volume and progressively eat less just to maintain your weight because the basal metabolic rate will keep dropping. And when you've had enough because you cannot possibly continue to train like a pro athlete while eating like a bird, as soon as you stop exercising the body will hoard every calorie ingested, and the weight will rebound tenfold.
Exercising on a low-calorie diet suppresses your thyroid function – the master regulator of your metabolism
You maybe burning calories through intense exercise, but this is a response to a stressful activity which increases adrenalin and cortisol which actually decreases thyroid function. And when your thyroid is suppressed, YOU WILL GAIN FAT. A suppressed thyroid = slow metabolism. In fact, obesity was once treated with thyroid hormone, not with a treadmill.
Low calories and exercise result in unsatiable hunger and cravings, and most of the calories you eat when you feel stressed will be stored as fat
Any activity that demands extra energy above your baseline, be it physical, mental, or emotional, induces a stress response in the body which ramps up hunger and cravings for sugary-salty-fatty foods (junk food!). And since slowing down your metabolism and increasing fat storage is our body's response to stress, most of the junk we eat when we feel stressed will be stored as fat!
Exercise, like ageing, obesity, and diabetes, increase the levels of free fatty acids (FFA) which increases lactic acid production, resulting in a diabetic and cancer-like inflammatory metabolism
During exercise and stress, PUFA are the first fats to be released from storage, which amplifies the stress response and leads to many negative side-effects: oxidative damage, hormonal imbalances, accelerated ageing, increased inflammation, water-logged appearance, calcium loss, slow and suppressed metabolism, all which inhibits long-term weight management. This FFA exposure also decreases glucose tolerance, explaining the higher incidence of type two diabetes in women.
Even with moderate aerobic exercise, the combination of low blood glucose and increased FFA very quickly stops the production of T3 thyroid hormone – the hormone of life, energy and fat burning
Rest will tend to restore normal T3 thyroid hormone levels in healthy people, but in a hypometabolic person, thyroid levels remain suppressed even at rest, meaning they remain low in energy and in fat storage mode.
Exercise lowers your resting heart rate (RHR), and just because you are fit does not mean you are healthy
Despite popular belief, a low heart rate of 40-50bpm may be a sign of being fit, but it is not a sign of health, especially if your basal body temperature is also low. By exposing your body to constant stress without giving it the right building blocks, your body becomes more efficient in surviving in this stressed-out state and using less energy – a downregulated metabolic rate uses less energy and stores more fat.
When you are constantly stressing your body out, you digest food poorly
This is because of dwindling digestive enzymes which can lead to endotoxins and digestive problems such as bloating and constipation. Exercise also encourages leakiness of capillaries and intestines allowing for endotoxins from the gut to enter circulation and poison your energy production.
As Ray Peat says: A high metabolic rate NOT exercise makes people naturally thin. The most bang for your buck comes from optimising your metabolic rate so your body burns fat at rest. In fact, up to 75% of your daily energy expenditure comes from the resting state.
During exercise, PUFA fats are the first to be released from storage
Apart from causing hormonal imbalances, accelerating the ageing process, and suppressing your thyroid and metabolic function, PUFAs also amplify the stress response. Together with high cortisol and high amounts of body fat, this can lead to insulin resistance and eventually 'diabesity' – a modern epidemic diagnosis for someone who has the coexistence of both diabetes and obesity.
Avoid 'metabolic adaptation'
Trying to lose weight by burning energy EXTERNALLY through stress, rather than INTERNALLY through upregulating your metabolic rate (and building muscle whilst on higher calories), activates 'metabolic adaptation'. This means your body will counteract your weight loss efforts very quickly by reducing all its metabolic processes to conserve energy, resulting in a weight loss plateau, fatigue, and fat storage.
Low calories and intense exercise = the infamous weight rebound
This standard weight loss combo is majorly flawed – it's what plummets your resting metabolic and promotes muscle loss – and lean muscle mass is one of the primary determining factors of basal metabolic rate. So when you stop the gruelling regimen, your metabolic rate 'turtles' because of the suppressed thyroid function and muscle loss and the weight piles back on – and now you're actually worse off than when you started.
Stop seeing the gym as a way of 'fixing' what is not working. This is the opposite of achieving permanent weight loss. It is actually the worst thing you can do for an already flogged metabolism. It's like spraining your ankle and thinking more running will fix the issue – it won't!
Instead of joining CrossFit, focus on rebuilding your metabolism and reducing stress inside and out, rather than creating more of it. Because until you address the high stress, everything else is a waste of your time, energy, and health.
The point of this post is NOT to recommend that you never exercise again. It is to help you understand that exercising while on low calories and especially if you're in your 40s or 50s with a long history of dieting, will hinder your chances of losing weight in a meaningful, long-term way. Rather, understand that you can use exercise to build muscle once you are on higher calories AND your metabolism is rejuvenated.
You wouldn't take a broken-down car to the F1 racetrack – so why on earth would you take a broken metabolism to F45?
"A higher metabolism, not exercise makes people naturally thin." Dr. Ray Peat.
The good news is that you're never too old and it's never too late! No matter how damaged you think your metabolism is, you can get better. You just need the right tools, a desire to change, guidance and patience. And you simply CANNOT achieve permanent weight loss without making metabolic health a priority. It's scientifically impossible!
Join BodyIQ to rebuild your metabolism so it burns calories at rest, rather than store them as fat and to help you regain your health, vitality, energy, and a body you'll be proud of at any age. It's the only way to achieve permanent, exercise-free weight loss without sacrificing your health.
"Exercise and calorie restriction increases stress hormones, causes obesity and insulin resistance, and may require cortisol blockers to reverse".
This study demonstrates, for the first time, that the actions of stress hormones may be linked to the deterioration of metabolic health that occurs following cessation of calorie restricion and daily exercise: https://journals.physiology.org/doi/full/10.1152/ajpendo.00490.2015
Summer bodies are made in winter.
Join the BodyIQ's 8 week online Metabolic Makeover Challenge to get you started on your health and weight loss journey. Your only regret will be that you didn't sign-up sooner!
Article by Kinga Fourie
Certified Nutritionist, BodyIQ Founder & IFBB Figure Champion